All of our flooring systems are designed for safety, performance of the athlete, and the long term program requirements of the facility. Through the independent performance, safety, and structural testing, we have more surfacing options that meet or exceed DIN Certification than all of our competition combined.
Performance wood floors systems are divided into three categories:
Fixed systems – These systems are designed for peak structural integrity.
Floating systems – Designed for the maximum amount of shock absorption for the athlete.
Fixed resilient systems – These are hybrid systems designed to maximize both the performance for the athlete and the structural integrity for the facility programming.
The following is a representation of each system that we install. Please call to review all of our performance wood floor systems at our Performance Enhancement Education Center or to get a list of facilities in your area where these systems are in play.
Power Strip: An anchored sports floor system providing stability with fast and quiet play, consisting in general of a vapor barrier, grooved underlayment, steel encased nailers, concrete anchors, and maple flooring.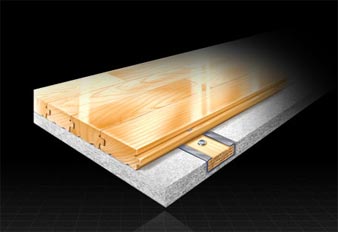 NeoShok: A floating sports floor system with high resiliency and uniformity, consisting in general of a vapor barrier, NeoShok resilient pads, wood subflooring, and maple.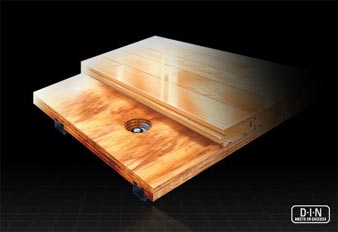 Focus: A resilient anchored floor system providing a unique subfloor and cushion design that enhances play for athletic activities while engineered for heavy non-athletic loading, consisting in general of a vapor barrier, pre-manufactured subfloor panels, continuous lineal-resilient cushioning, anti-squeak clip and pin anchorage and maple flooring.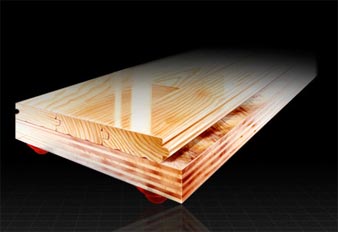 Hardwood Basketball Floor Installation
CBA Sports is Atlanta's best company for wood floor installation in gymnasiums. Our certified experts perform fast, effective installations that ensure each new hardwood basketball floor is ready for years of play.
How Do You Install a Hardwood Basketball Floor?
CBA's wood gym flooring installation process starts with wood acclimation. Different temperatures and moisture levels cause wood panels to warp, so we allow time for the wood to adjust to your gymnasium's climate before installing. Next, our crew will install a subfloor before racking the panels according to the most stringent MFMA guidelines. We'll nail the wood in place, seal each seam and then paint the court to your specifications.
Why CBA Sports?
Hardwood flooring is one of basketball's greatest traditions, so choose an installation crew with the experience to respect the game's legacy. CBA Sports has spent more than 30 years installing wood basketball courts in small gymnasiums and professional arenas throughout Georgia. Our process is collaborative and transparent to ensure the final product meets your gym's needs.
Install Your New Hardwood Basketball Court
You can count on CBA Sports for volleyball or basketball hardwood floor installation in Atlanta. We use the finest wood in each of our flooring systems, so visit our design center to see our work for yourself. We encourage you to contact CBA Sports online or call us at 770-797-9990 to discuss your gymnasium.