BEST DRAINAGE
MaxxFlow, proprietary technology for 100% permeable, rinse-clean drainage technology

INDUSTRY LEADING
Unmatched, 15 year warranty backed by the industry leader to give you peace of mind

MOST REALISTIC
Unique multi-colored blades intertwine to match the look and feel of real grass
CBATurf has been providing a high-quality artificial turf that is made to look and feel like real grass without the constant hassle of lawn upkeep since 2000. Synthetic turf never needs to be cut, trimmed, or edged. Plus, after our synthetic turf has been properly installed, it can be enjoyed for many years to come! In that time, you can save up to thousands of dollars simply by cutting out traditional turf's labor-intensive maintenance costs. Synthetic turf can be the best choice for the environment as well.
Why let your once-manicured lawn turn brown and disheveled when there is a less expensive, aesthetically-pleasing option you can add to your residential landscaping! Bring relief to your water bills while improving your home's outward appearance with CBATurf's synthetic grass today!
CBA Turf synthetic grass is the best artificial grass choice and the best solution for commercial landscape design including rooftops and grass patios. CBA Turf's synthetic grass is the closest alternative to a natural sod, grass lawn and is a far superior choice over other commercial landscape design surfacing.
If you are considering synthetic turf for a commercial landscape design project, call us today at 770-797-9990 or contact us.
When you choose CBA Turf for your child's play area, you are making a smart, healthy decision. Synthetic turf has all the beauty of a lush green lawn, but it's tough and durable, making it an excellent investment. Most important, synthetic turf enables you to ensure your children have a safe, comfortable place to play. Our FallSoft® technology provides additional protection and cushioning against impacts from more than 5 feet.
Synthetic playground turf stays clean. Specialized porous backing provides a built-in barrier for weeds and discourages insects, yet it offers superior drainage and dries quickly. Your kids can have the time of their life, and you won't be spending your life cleaning up your lawn or patio.
With custom features emulating famous courses, CBA Turf's Signature Series backyard putting greens are a spectacular playable showpiece that provide the ultimate backyard putting green experience. CBA Turf's Signature Series Golf Greens deliver an authentic look and feel, giving you a true home golfing experience. For golf enthusiasts, CBA Turf is the highest quality provider of professional-grade backyard synthetic home putting greens, providing unparalleled realism in terms of surface quality and aesthetics.
Our design and installation team can help you create the perfect backyard putting green with custom elevations, swales and bunkers. Let us help you create the ultimate backyard putting green experience!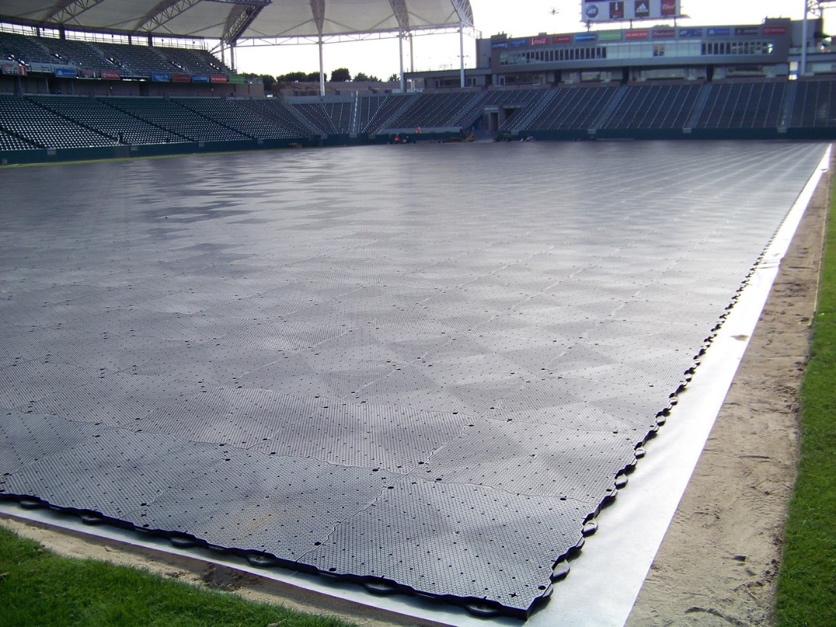 Stop living in the Stone Age. The days of invasively excavating the front yard or commercial property in order to install synthetic turf and filling it with dusty stone are gone! UltraBaseSystems makes installing landscaping turf in any commercial or residential location better than ever before. Owning a no maintenance synthetic turf lawn has never been more practical.
CBA Turf's synthetic grass for dogs, with its revolutionary drainage capabilities, along with its realistic look and feel, make it the number one choice for pet owners. Because of its unmatched synthetic dog grass durability, CBA Turf has proven to stand up to the most challenging of pets and its low maintenance features make keeping a beautiful, problem-free lawn all year long easy.
Plus, over time, CBA Turf artificial grass for dogs saves thousands of dollars in maintenance and watering.
Make your pets happy with Atlanta pet turf!