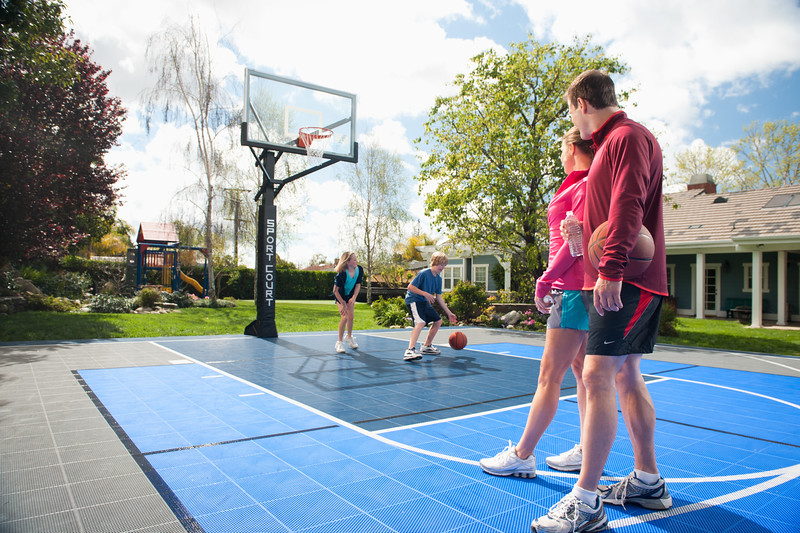 Basketball Courts
Play like the pros with a professionally built basketball court from CBA Sports. We'll work with you to determine the ideal court size and materials for your sport floor needs. We use the best outdoor basketball tiles that offer optimal shock absorption, grip and ball bounce responsiveness for competitive play. Customers can also choose from several options to customize their surface color or add team logos, backstops, fences, light fixtures and more. You can use the interactive court designer to test how our options will look on your property.
Our Outdoor Basketball Court Surface Materials
CBA Sports customers can choose an outdoor basketball court flooring material from Sport Court's top flooring system lines. Each Sport Court® surface features Lateral Forgiveness™ for reduced impact on athletes' bones and joints compared to standard concrete surfaces. Home outdoor basketball court construction has never been more convenient than it is with CBA Sports. We'll work with you to determine your preferred outdoor basketball court size and construct it with these surface materials:
Envision Your Basketball Court Today
With our interactive court builder, you can customize and see how your court would look in your space today. Make your court choice and decide between a variety of color options all on your computer or mobile device.
Our Custom Basketball Court Construction Process
CBA Sports makes outdoor basketball court installation easy for customers in the Atlanta area. We'll build a steel-enforced concrete sub-base or authentic SportBase™ to house your outdoor basketball court surface material. Your dedicated project manager will work with you to design the custom basketball court of your dreams and ensure construction stays on schedule. Our factory-certified installation teams work diligently to ensure your court and flooring surface is ready for years of competitive play.
Why Choose Us for Your Backyard Basketball Court?
Our staff are seasoned professionals when it comes to helping you create a court system that will not only serve your needs now but far into the future. We take the same care in design, sport floor surfaces, component options and construction that goes into our NBA and NCAA projects — all of which results in your outdoor dream court! We have over 30 years of experience designing and installing outdoor courts for clients of all sizes and pages worth of highly rated customer reviews, so count on CBA Sports for fast, reliable construction services.
Break Ground on a New Outdoor Basketball Court
CBA Sports offers outdoor basketball court tile installation that Atlanta customers have trusted for over 30 years. If precision, performance, safety and quality are important to you, call us at 770-797-9990 or contact us today to set up your complimentary assessment!