Anywhere that serious athletes are training you need a serious floor system to match! Weight room floors take more abuse than any other floor in your facility so why not make the right choice from the start? Choosing the wrong system can lead to cracked concrete as well as broken dumbells and equipment… both costly both in down time and replacement. CBA Sports will help you choose the athletic flooring system that's right for you, both now and into the future.
Sport Guard High Impact Textured Surface
Manufactured in 4' wide rolls and available in 6,8, 10 or 12mm thickness. With a tensile strength greater than 850psi, this system will take the abuse and still look great after years of use. Available in a variety of color options.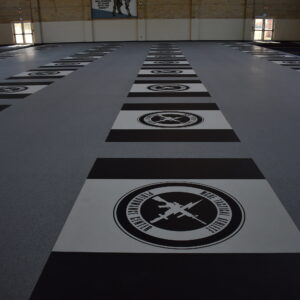 Sport Roll Vulcanized Rubber Surface
Maximum roll width of 4'6" and thicknesses available in: 5mm, 6mm, 8mm, 10mm, 12mm, 13mm or 14mm. This solid covered surface is equipped for heavy loads and its' vibrant colors are easy to maintain.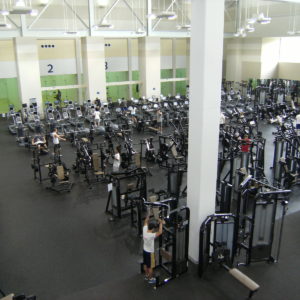 This beast of a surface is 1" thick and does not have to be glued down making it a natural for both retrofit and new construction alike. Designed with a patented "Ultra" wear layer to provide unlimited design options, Everlast UltraTiles offer a new brand of visual excitement to any fitness facility or club interior. UltraTile now has 18 standard designs, chosen specifically to coordinate with fitness equipment as well as other flooring options. By featuring a pedestal underside, these tiles help prevent cable clutter by routing fitness equipment wiring beneath the surface.