What Is Synthetic Athletic Surfacing?
Synthetic athletic surfaces have come a long way since they were first introduced in the 70s. Today's synthetic floors are not only durable and multi-purpose; they are now designed with performance and safety in mind. Available in several different material types, thicknesses, and compositions, CBA Sports can help you determine the synthetic indoor sports flooring system that is right for you.
Synthetic athletic surfaces can be classified into three distinct categories:
Sports vinyl – These systems consist of rolled vinyl surfaces with a variety of backings and thicknesses. The seams are heat welded to ensure a uniform installation. These floor systems can provide years of low maintenance play and multipurpose durability and come in both a wood faux and solid color option.
Rolled rubber – These systems consist of rolled rubber surfaces that can have a natural or vulcanized wear layer. The seams are normally glued and bricked to ensure a uniform installation. These floor systems are very durable and comes in a variety of solid and fleck color options.
Hybrid systems – Pad and pour systems essentially take from both the sheet good and poured urethane categories to combine one system. By adhering a recycled rubber base mat then applying a poured urethane lift, this system gives the cushioning that our customers desire along with the durability that they require.
Types of Indoor Synthetic Sports Floors
CBA Sports offers various options for synthetic indoor athletic surfacing projects. Each type of synthetic surface available through CBA Sports, offers unique performance features and customization options. Our representatives will help you decide the best type of synthetic flooring for your needs and programs.
CBA Sports Vinyl: This cushioned vinyl flooring is the highest quality product for athletic and commercial use. The product provides consistent force reduction values with maximum ball rebound for improved performance. CBA Sports Vinyl is manufactured in one continuous production process and is the easiest floor to maintain with its' factory applied coating.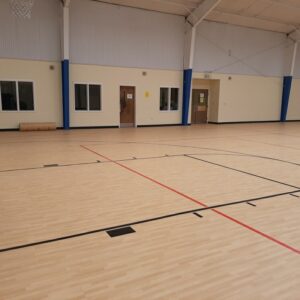 Rolled Rubber: If you're in need of a durable athletic surface with a great look, then look no further. CBA offers high-quality athletic surfaces that you can use for basketball, volleyball, tennis and running tracks. With several colors and multiple thickness options for you to choose from, we will help pick the best surface for your needs.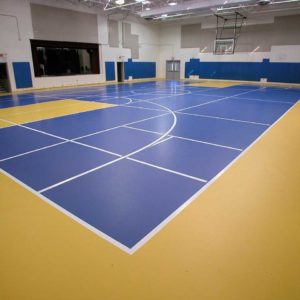 ElastiPlus: This system is a true dual-durometer and offers superior wear resistance. It is engineered to offer a consistent balance between good shock absorbency and fast play while preventing fatigue. At the same time, it is low maintenance and designed with high deformation recovery and sound absorption. Ask about it can be "performance customized" to meet your athletic requirements and budget.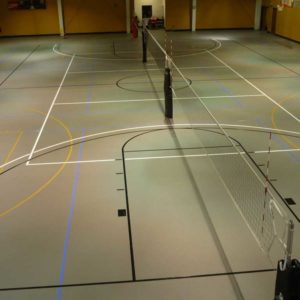 Synthetic Sports Floor Installation
Synthetic sports flooring can be the perfect solution for your facility, so choose an installation team with the experience to do the job right. CBA Sports offers synthetic indoor basketball court installation for clients in and around the Southeast. Our installation technicians possess the training and certifications necessary to install all of our synthetic flooring offerings.
Your new synthetic gym floor will look great and last through years of rugged activity. CBA Sports customers can also choose maintenance and repair programs to complement their installation services.
Why Work With CBA Sports?
CBA Sports has over 30 years of experience installing synthetic basketball court flooring and more for gyms, churches, sports complexes and other commercial properties in Atlanta. We work with the best materials and develop close partnerships with our clients to install the best synthetic floor for the situation. Choose CBA Sports for a transparent process that results in the perfect synthetic floor for your gymnasium.
Start Your New Indoor Gym Flooring Project
The experts at CBA Sports are ready to discuss our synthetic flooring options and develop a plan for your gym. We encourage you to contact us online or call 770-797-9990 to start the process.