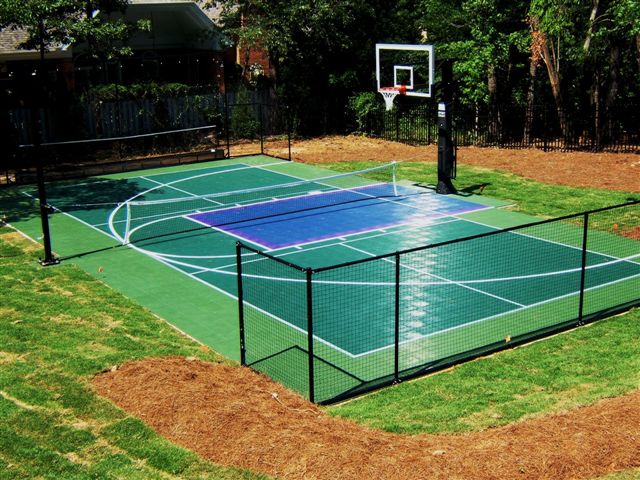 Have fun and stay fit with top-quality outdoor courts from CBA Sports. Outdoor sports surfaces and component systems provide shock absorption and performance while also withstanding the elements, from extreme cold to blistering heat.
Our outdoor Sport Court® offerings give you the flexibility to play the games you love at home. We design and install versatile courts for basketball, tennis, volleyball, pickleball, deck hockey and more.
CBA will help you choose an outdoor Sport Court® that fits your needs and budget. Choose one of three outdoor basketball court material options for your backyard Sport Court:
PowerGame™: Ultimate shock absorption for player safety and ball bounce responsiveness.
SportGame™: Excellent traction for safe, competitive play in any game.
SportDeck™: Great ball control and traction at an affordable price.
Customize Your Outdoor Court
CBA customers can customize an outdoor Sport Court® around their lifestyles and favorite games. We develop outdoor basketball court construction specifications to work with the available space on your property. CBA also offers a variety of outdoor court customization options. You can customize your court with a surface color or logo of your choice. Our courts also support multi-sport features, fences, backstops, lighting fixtures and more. We encourage you to use our interactive court builder to conceptualize your outdoor Sport Court® today.
The CBA Court Construction Process
Our construction crews at CBA are fully licensed, insured and bonded to install your Sport Court the right way the first time around. You'll work with a dedicated project manager who will communicate with you through the entire process, from designing and pre-construction inspection through completion. We'll install your long-lasting Sport Court® on schedule. You can visit our design center to discuss how we'll bring your project to life.
Why CBA Sports?
We have been constructing outdoor court systems for over 30 years and know what products will work and which ones will not. From suspended Sport Court® modular systems to acrylic and sheet goods, we can show you projects in your area that you can see for yourself. Don't take our word for it — ask any one of our hundreds of outdoor court customers about the product and project that CBA Sports has built for them. We stake our reputation on it!
Contact CBA Sports to Get Started
Work with CBA for basketball, tennis, futsal or pickleball court installation in and around Georgia. Our experts are here to outfit your property with a Sport Court® you'll enjoy for years to come.Contact CBA online today to learn more about our Sport Court® customization options or related services!