How to Maintain Your Artificial Grass Lawn
Artificial grass or turf is an excellent solution for homes, colleges, public parks and business lots. Whether you're considering artificial grass or already have it on your property, it's no secret that a turf system looks neat and vibrant throughout the year.
If you're wondering whether artificial grass needs any maintenance and what upkeep entails, learn more about this lawn option and how you can ensure your installations stay in top shape all year.
Does Artificial Turf Need Routine Maintenance?
Residential and commercial turf systems require less maintenance than real grass. Forget about watering, seeding and weeding your yard every weekend to ensure it stays green.
Outdoor turf requires you to monitor high-traffic areas for wear and tear. You should remove spills, animal waste and anything that will gum up your artificial grass as soon as possible. If sections appear flat or bald, it's worth hiring a professional to repair your turf seams and sub-base layers.
Tips for How to Maintain Synthetic Turf
Use these general guidelines to take care of your turf.
1. Clean Artificial Turf as Needed
You want to ensure your artificial grass keeps its vibrant color. If someone spills liquids or drops a plate of food, you can simply use hot soapy water to rinse the area.
2. Remove Leaves and Sticks
Storms can cover your property in leaves, twigs and debris. Pick up anything on your artificial turf that could result in tears at the sub-base level. We recommend occasionally hosing down your artificial turf to wash away pollen and dirt, too.
3. Brush Artificial Grass
After a party or backyard barbeque, brush sections of your artificial grass to prevent strands from knotting together. You can find special rakes for artificial grass that keep your space tidy.
The Importance of Turf Lawn Maintenance
A high-quality turf system should last 15 years or more with the right level of care. Determining the necessary maintenance for your artificial grass setup is the key to a long-lasting investment.
If your artificial grass needs professional help, call CBA Turf. We've served customers in the Southeastern U.S. since 2000. Our team has experience working with 100% permeable turf technology that you can place around pools, patios, playgrounds, golf courses and other high-traffic locations. We'll take care of your artificial grass project from start to finish, installing, repairing and grooming sections as you see fit.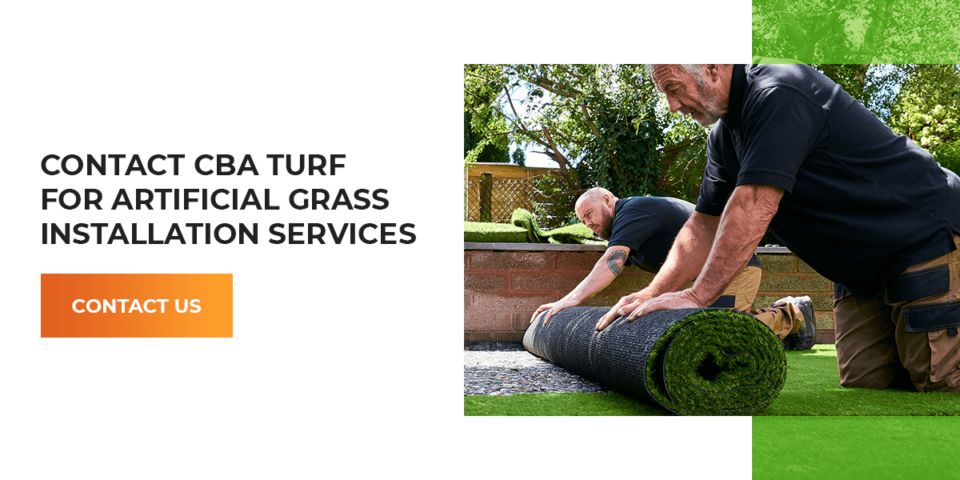 Contact CBA Turf for Artificial Grass Installation Services
Ready to make your residential or commercial property look better than ever before? CBA Turf will bring your vision for an artificial grass system to life. Call 770-797-9990 to speak to our experts or fill out a contact form for more information about our capabilities.