Winter is upon us, so you know what that means — spending time cheering on your favorite player from the bleachers in a warm and dry gymnasium. However, this season may also cause various factors to affect the quality of your wood flooring. Taking the appropriate precautions will reduce the potential for damage and maintain a safe environment for players to enjoy in the winter.
How Winter Affects Hardwood Gym Floors
The first step to maintaining your wood flooring is to understand potential threats. Keep an eye out for the following hazards during winter:
Increased activity: When the season changes, many more sports and activities will be held inside your gym, from basketball games to pep rallies. This surge of traffic will likely track in more debris, cause a greater number of scratches and leave messes that may damage your flooring.
Colder temperatures: Wintertime is known for its chilly conditions. Low temperatures and humidity levels will cause wood flooring to shrink and pose risks to your heating, ventilation and air conditioning (HVAC) and plumbing systems.
Water on your floor: People are bound to track in snow, ice, salt and, worst of all, moisture in the winter. These elements can compromise your wood's integrity and the safety of those using it.
How to Protect Your Gym Floor in the Winter
Winter is full of periods of high use and cold weather that affect your gym floors. Preventive measures will help you protect your floor, avoid costly repairs and protect users from injury. When trying to safeguard your gymnasium, consider some of the following strategies to give your flooring the extra layer of defense it needs to stand the test of time: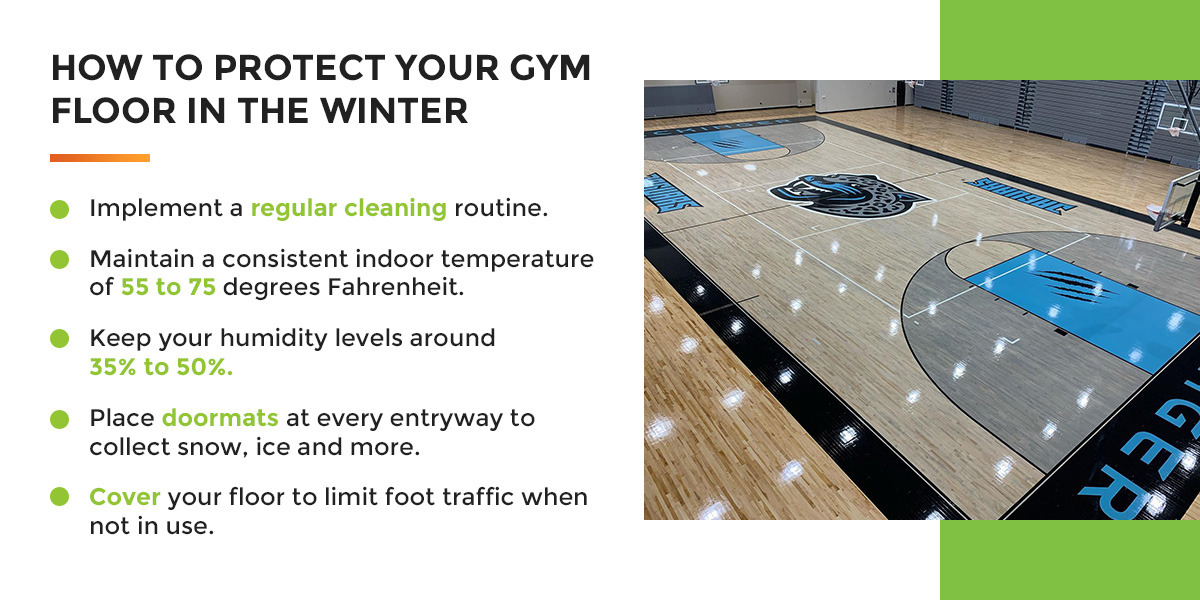 Implement a regular cleaning routine.
Maintain a consistent indoor temperature of 55 to 75 degrees Fahrenheit.
Keep your humidity levels around 35% to 50%.
Place doormats at every entryway to collect snow, ice and more.
Cover your floor to limit foot traffic when not in use.
Choose CBA Sports as Your Go-To Sports Flooring Specialist
Whether the effects of winter have compromised your current flooring and you need a replacement or you want assistance maintaining it, CBA Sports is ready to help. Our team has decades of experience installing and caring for wood flooring in gyms across the country. As the industry leader in indoor flooring, we utilize only the finest sports flooring, offering the highest durability and performance capabilities.
If you're interested in a new court, try out our interactive court builder to bring your ideas to life. Learn more about how we can help protect your court during winter by calling us at 770-797-9990 or contacting one of our specialists online today!