An artificial grass lawn is a fantastic addition to any home, offering stunning looks and low-maintenance benefits. However, low maintenance doesn't mean you won't have any maintenance. With a bit of time and energy, you can easily maintain your synthetic turf and keep it looking as new as the day you installed it.
Why Is Turf Maintenance Important?
Your lawn experiences daily use from regular foot traffic, the elements, animals and more. Maintenance is crucial to preserve the life span of your artificial turf. With periodic cleaning, you will:
Ensure proper drainage: Buildups of debris like leaves, flower petals or sticks can block your lawn's perforated backing, leading to deterioration, bacteria growth and bad smells.
Preserve its beauty: Artificial grass needs regular maintenance to remove stains, prevent blades from becoming matted down and keep it looking as green as ever.
Save you money: Proper care will protect your lawn from lasting damage to blades and infill, which could lead to expensive repairs and replacements.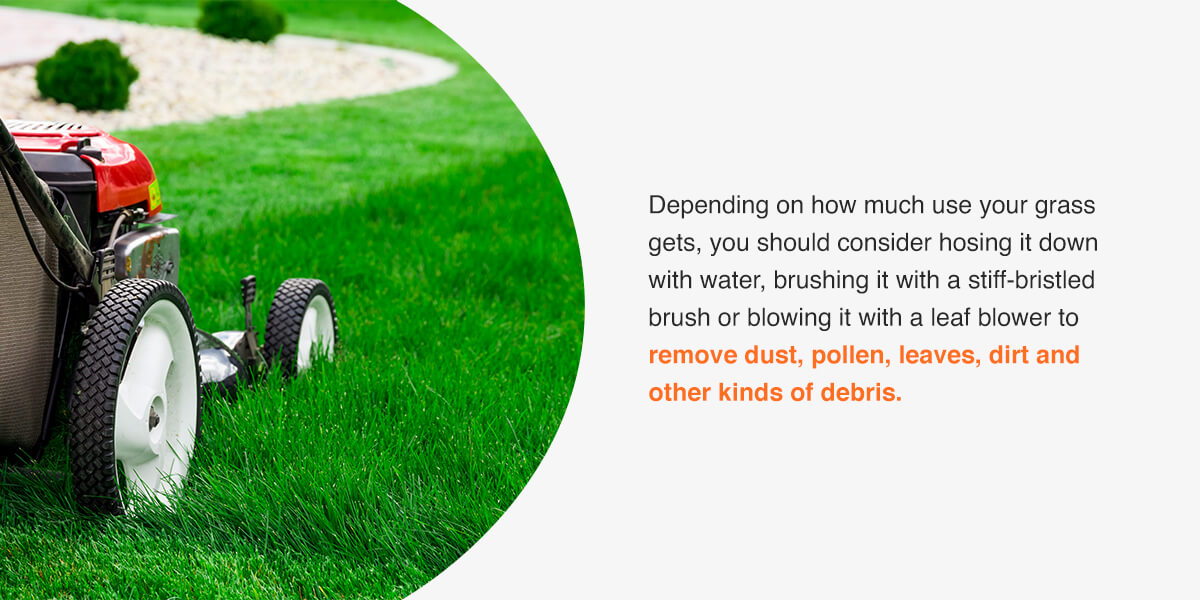 How Should You Maintain Your Turf Lawn?
Luckily, turf lawn maintenance is straightforward and nowhere near as involved as traditional grass lawn upkeep. Implementing lawn care to your weekly and monthly routines is best to protect its longevity and durability.
Depending on how much use your grass gets, you should consider hosing it down with water, brushing it with a stiff-bristled brush or blowing it with a leaf blower to remove dust, pollen, leaves, dirt and other kinds of debris. When brushing, sweep against the grain to place grass blades in an upright position. Some other required maintenance activities that will preserve your artificial grass include:
Removing pet waste.
Vacuuming and cleaning any spills.
Clearing snow.
Sanitizing and disinfecting its surface.
When Should You Call an Expert?
Over time and with regular use, your artificial turf can still show signs of aging, no matter how much you clean it. When this happens, it's best to call in the professionals. At CBA Sports, we can develop personalized artificial turf maintenance solutions that fit any budget to treat tough stains, repair seams, replace infill and monitor your irrigation system. We have over 30 years of experience, giving us the skills to get in deep and keep your turf looking great year-round.
Contact CBA Sports Today
We're proud to offer artificial turf maintenance solutions to keep your lawn looking and performing its best for years. Our experts are the best in the business, and we are ready to take care of all your needs. Interested in how we can help? You can contact us for a free consultation or give us a call at 770-797-9990 to learn more about our synthetic turf maintenance and repair services today!