If you own pets, you might be wondering if artificial turf is OK for them. While fake grass is eco-friendly and low-maintenance, once installed, it also provides many benefits for your pet.
Learn everything you need to know about purchasing synthetic grass when you own pets. Before installing fake grass at your house, it's essential to understand the safety of its materials, the health benefits it provides for your pets and how to take care of it.
Is Artificial Turf Safe for Pets?
It's safe to buy artificial turf when you have pets. A common misconception about artificial turf is that it contains lead that can affect pets. Though this might have been true in the past, today, fake grass is made of new materials that are toxic-free and safe. In fact, synthetic grass can provide many health benefits for your animal, including:
Prevents allergies: Pets are similar to humans in their reaction to outdoor pollens. Pet allergies can occur due to grasses, weeds, trees and molds. Since synthetic grass does not produce pollens or hold onto as much pollen as natural grass, installing it can prevent allergies in your pets.
Removes ticks and fleas: The blades in artificial grass don't support an environment for ticks or fleas to thrive. Additionally, since fake grass doesn't require soil, your lawn is better protected against nesting parasites. While it's impossible to remove 100% of pests from your yard, you can eliminate more pests by regularly clearing debris and leaves.
Eliminates toxic chemicals: Studies show that fertilizers, herbicides and insecticides in natural lawn care pose health problems to humans and affect pets. Care for artificial grass uses non-toxic treatments. By installing synthetic turf, you ensure your grass is safe for your pets while maintaining its flawless look and durability.
We know that when you're considering purchases that will impact your pet, safety is always a top priority. Thankfully, artificial grass is safe, easy to take care of and beneficial for both you and your animals.
How to Take Care of Artificial Grass With Pets
A big concern for pet owners is whether artificial grass holds up to pet use. Luckily, it can, and it even requires less time, energy and money to maintain than natural grass. Three questions people commonly have about artificial grass while owning pets include:
What Happens if a Dog Urinates on Artificial Grass?
You'll be happy to know that if your dog urinates on artificial grass, it will not damage your lawn.
Because turf isn't living, your lawn is safe from stains or patches caused by animal waste. The urine will run straight through the turf so your lawn remains flawless without you needing to put any work into it. Additionally, artificial turf releases odors into the air so they don't linger. You may want to hose down the turf to help coax the odors away.
With proper consulting before installation, you can ensure your fake grass uses max absorption and draining suitable for your pets.
Is Artificial Grass Safe From Pet Scratching?
Dogs love to play rough with grass, plants and soil. But artificial grass is beneficial for pet owners because it's difficult to penetrate with claws and other sharp objects. Its backing and durable blades ensure you enjoy a beautiful yard free of holes.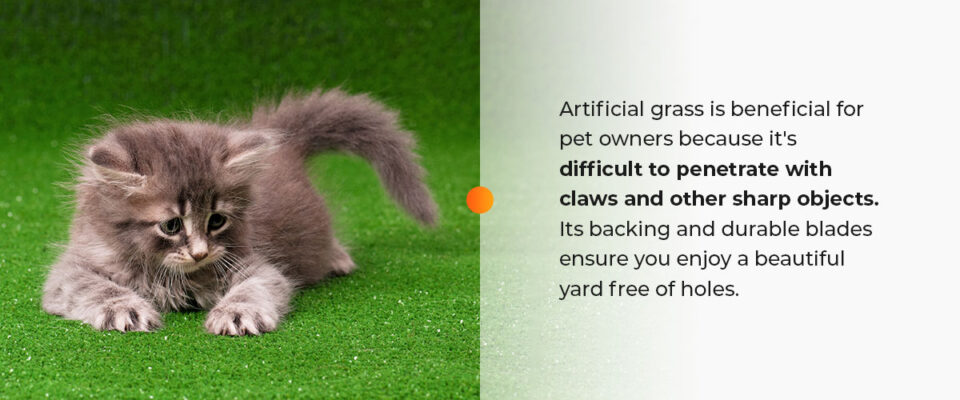 How Do I Stop Dogs From Pooping on Artificial Grass?
If you have neighbors with pets or an area of your lawn reserved for humans only, you might be wondering how to prevent animals from pooping on artificial grass. The answer is the same for both natural and fake grass — safe and natural dog repellents, such as cayenne pepper or baking soda, can be diluted and sprayed directly on your lawn without affecting its look or durability.
If dog repellents don't do the trick, a motion-activated sprinkler should deter pets with its fast jet of water and sudden noise.
Pros and Cons of Artificial Grass With Dogs
Before installing a synthetic lawn in your backyard when you own a dog, weigh the advantages and disadvantages of fake grass.
Pros of artificial grass include:
Safe and beneficial: The newer materials used to make artificial grass contain zero harmful chemicals and benefit pets by reducing allergens, ticks and fleas. Natural grass requires chemicals that can harm pets.
Cost-effective and easier to maintain: Eliminate muddy pawprints inside with fake grass outside. Veterinarians and professional kennels often turn to artificial grass because it saves time and money to clean and maintain.
Cons of fake grass include:
Older versions of fake grass may not be safe: Have your turf inspected for lead levels if you move into a home with previously installed turf of unknown origin.
Not the same as natural grass: Everyone loves cool, natural-looking grass. Although artificial grass might not provide the same cool padded feeling in warm summer months, it's rapidly coming close to looking and feeling like the real thing. Dogs should also appreciate artificial grass because it's softer on their paw pads.
What Is Pet-Friendly Artificial Grass?
Pet turf is becoming more prominent by the day. While regular turf is an excellent option, you'll want to invest in pet turf when you own dogs or cats that roam outside. Its specially designed technology minimizes cleanup and everyday chores associated with natural lawns and pets. Benefits of pet turf include:
Eliminating muddy paws and fur: When it rains, you'll be confident that your pet stays clean without those mud puddles associated with natural grass and soil. You'll save time and money on artificial grass because it's low maintenance and easy to care for.
Stain-resistant technology: Pet-friendly turf doesn't develop urine discoloration and patches that usually occur from natural lawns and frequent pet use.
Drainage capabilities: This benefit is typically the biggest difference between pet turf versus regular turf. When your pet pees on an animal-friendly artificial lawn, the urine goes straight through the turf without creating mold buildup or odors.
Durability to withstand rough play: A strong backing prevents digging and other rough play to protect your artificial lawn and maintain its impeccable look.
Choose CBA Sports for Your Pet-Friendly Turf in Georgia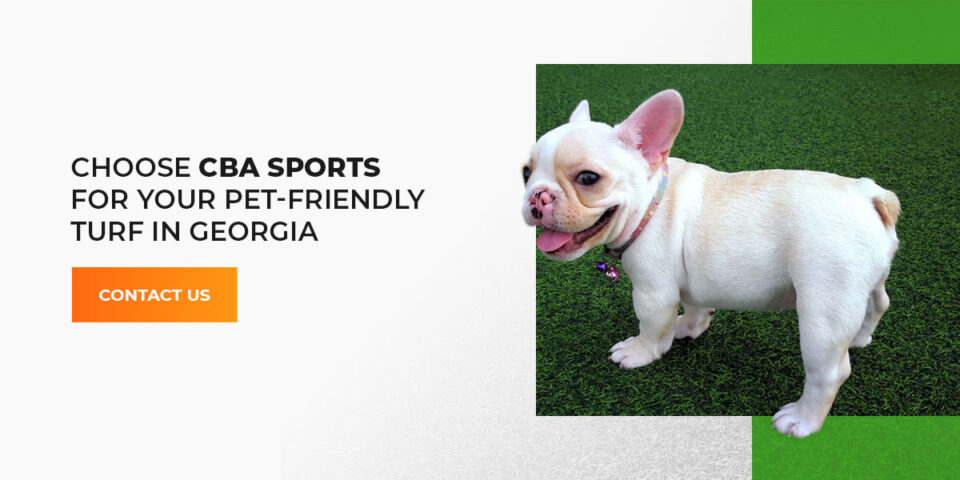 Artificial grass is a cost-effective and low-maintenance option for your yard as a pet owner. Its advanced technology makes it appear more natural while creating a safe, clean and comfortable environment for you and your pets.
When you decide that you'd like to install pet-friendly artificial grass, turn to CBA Sports for expert installation. Our materials are unmatched in durability, and our team will work closely with you to design the best lawn for your needs.
To discuss your artificial turf project today, call us at 770-797-9990 or contact CBA online.