What to Know About Gym Floor Refinishing
From competitive athletic games to intense practices, gym floors see plenty of use. All that activity can wear down the finish of a hardwood floor, affecting its function, appearance and performance. Refinishing can help restore the floor to its original beauty and extend its lifespan.
Is It Necessary to Refinish a Hardwood Sports Floor?
All hardwood sports floors need to be refinished annually. Sports floor refinishing is important for several reasons, such as:
Safety: A refinished hardwood sports floor provides improved traction and performance. It's a safer surface for children and adults to engage in physical activities.
Investment value: Replacing a hardwood sports floor is an expensive endeavor. Protecting your investment by maintaining of one of your most critical assets, helps your finances. Proper daily maintenance and annual refinishing will add years to the life of your existing sports floor. The better your floor looks and performs, the better reviews and opportunities you might have to increase revenue, by attracting more players and tournaments from the care and maintenance you put into your hardwood sports floor.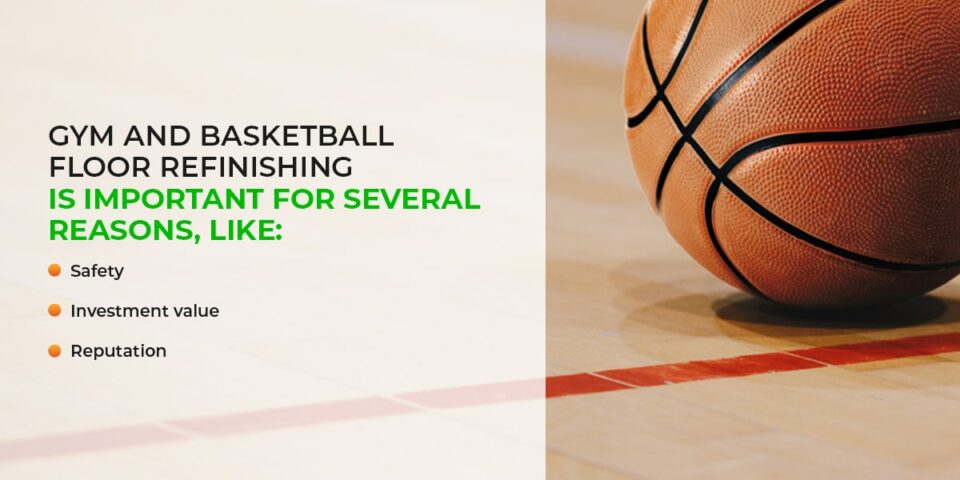 What Are the Steps of Gymnasium Floor Refinishing?
You can expect to refinish your gym floor annually. You can refinish a hardwood gym floor with these steps:
Map out the best time to refinish your sports surface. You may want to choose days when your gym would be empty. Remember that it can take 3-5 days for annual maintenance and 10-14 days to completely sand, paint and refinish your hardwood sports floor.
Decide if you're going to refinish your gym floor yourself or hire a trusted partner like CBA Sports. Hiring a professional assures that your floor will be done properly with the right materials, and with the least amount of down time.
Consult your sports floor professional for proper curing times for water-based and oil modified finishes.
Costs Associated With Gym Floor Refinishing
You'll want to make sure that you budget adequately for your gym floor refinishing. The cost to refinish a floor varies based on the floor size, type of maintenance needed and polyurethane finish required. If you have refinished your floors in the past, you may want to use those costs as a guide or contact CBA Sports for a detailed annual budget.
Trust CBA Sports for Your Professional Gym Floor Service
Want to get the most value out of your wood gym floors and bring them back to life? Contact CBA Sports to learn more about our resurfacing services!