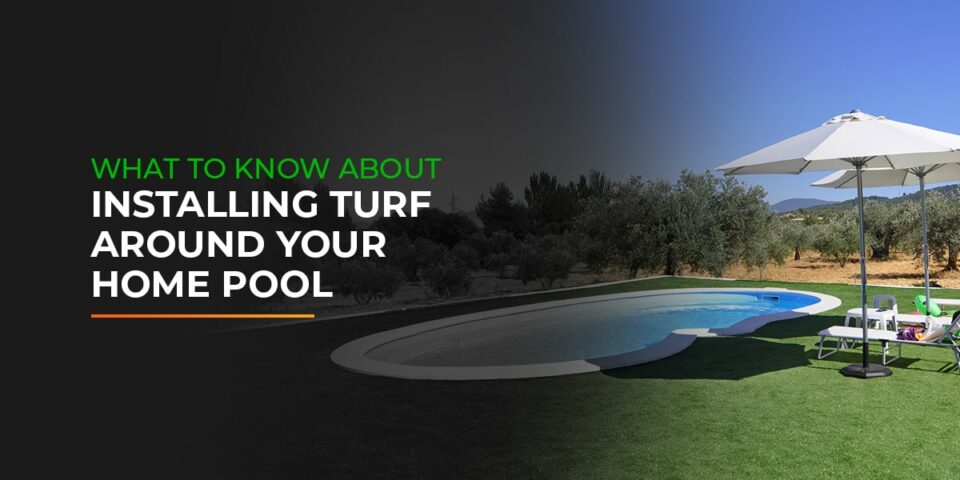 Artificial turf for pools is a trend that's growing in popularity. Thanks to a comfortable feel and gorgeous look that are easy to maintain, synthetic turf is ideal for summer days relaxing poolside.
Can You Put Artificial Grass Around a Pool?
As we've already mentioned its growing popularity, that answer is a resounding yes. Artificial turf's drainage and slip resistance help protect your family from slips and falls around the pool. It's also eco-friendly, soft to the touch and cool on even the warmest days.
We'll outline more of the benefits of using artificial turf around your pool below and provide information about the installation process when you make the switch.
Natural Grass Vs. Artificial Grass Around a Pool Area
Before you make your choice, it's important to consider the pros and cons of grass around pools.
Natural grass provides that quintessential summer feel that we're all accustomed to. Who doesn't love sitting back in a lawn chair on their natural lawn or placing a picnic blanket on cool, natural grass? Additionally, natural grass has a look that makes us feel good and appreciate nature while we're outdoors.
However, while natural grass has several benefits, there are also many drawbacks to using it around your pool:
Requires time and money to maintain: Natural grass needs an investment in time and energy. While you can employ a landscaping company to care for it, doing so is often costly. Artificial turf, on the other hand, requires minimal maintenance. You can simply hose it off for a quick clean, saving you time and money.
Requires harsh chemicals: Keeping your natural grass looking its best can often mean using pesticides and herbicides. While these chemicals can keep grass looking green and lush, they can also harm the environment and pose health concerns for humans and pets. Artificial turf maintains its flawless look with non-toxic treatments that are safe for the environment and your family.
Tracks mud and grass clippings: If you have concrete surrounding your pool, it can get extremely hot in the summer. As kids go back and forth from the concrete to the grass to cool off, they bring dirt and grass clippings back to the pool, making it difficult to clean. It can also create muddy spots in your natural grass. Artificial turf provides the beautiful look of grass without the mess.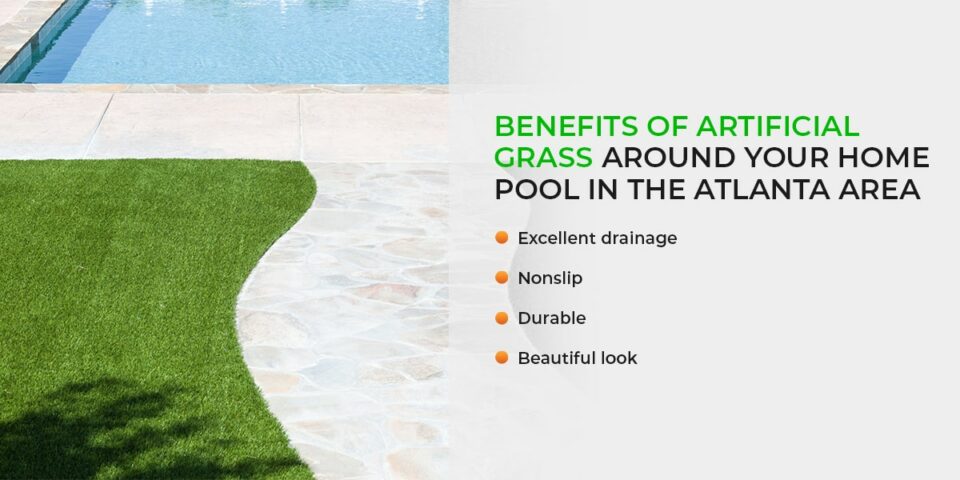 Benefits of Artificial Grass Around Your Home Pool in The Atlanta Area
We're no strangers to hot weather in Atlanta, Georgia. With temperatures climbing into the triple digits some summers, maintaining our natural lawns requires time and costly chemicals to help them withstand the heat. Several features of artificial turf make it a great alternative to natural grass around your pool, including:
Excellent drainage: Artificial turf has drainage properties that help to eliminate water from around your pool. When your kids run out of the pool for cannonballs, puddles will gather on concrete and natural grass. With artificial turf, your lawn stays looking flawless without pooling and keeps everyone from tracking dirt or wet grass clippings into the pool or house.
Nonslip: Artificial turf is safe and slip-resistant, making it ideal for the area around your pool. While wet concrete and natural grass can be hazardous, artificial turf offers better traction to help prevent falls.
Durable: Synthetic grass can stand up to our intense Atlanta heat. It holds up to moisture and won't fade or wither from the sun. Your artificial grass will stay beautiful with minimal maintenance, leaving you more time to enjoy your pool.
Beautiful look: Synthetic turf mimics the look of luxuriously fresh-cut grass, making it attractive for entertaining pool guests. The healthy-looking artificial turf will make a stunning contrast to your sparkling pool water, giving your backyard a resort-like feel.
Adding Artificial Turf Around Your Pool Deck FAQs
Here are some questions people commonly have about using synthetic grass around their backyard pools, along with our answers.
Why Should I Put Turf Around My Pool?
Concrete can get hot enough to cause third-degree burns, while fertilizers for natural grass can get into your pool, causing damage to the filtration system and making the water unsafe for swimming. Artificial turf stays cooler than concrete and drains better than natural grass, making it a soft, cool and safe alternative for your pool surroundings.
Does Chlorine Ruin Artificial Grass?
While the chemicals you use to keep your pool safe and clean can be harmful to natural grass, artificial turf is resistant to chlorine, and you won't need fertilizers to make it look great. Choosing artificial turf will make the area around your pool much easier to maintain.
How to Install Pool Deck Synthetic Grass
Now that you know the benefits of artificial grass compared to natural grass and concrete, you might be wondering how to install it around your swimming pool.
Installation experts can safely install your turf while following your neighborhood guidelines and selecting the appropriate materials best for your yard. The installation process involves the following five steps:
Planning the area: The first step for installing turf involves careful planning. Experts will help you determine where you want the turf installed so they can decide on the best materials and approach to take.
Preparing the ground: Your installers will excavate your ground and flatten out the surface. They'll add drainage holes and any other features you'd like for your pool.
Installing the sub-base and laying course: Next, they lay down the proper materials for your yard. For example, if you have pets, you may choose granite or limestone to help trap moisture and odors.
Rolling it out: Now it's time to roll out your artificial turf. Once it's laid out, it will require 24 hours to acclimate to the environment.
Installing and securing: Once your turf is laid and acclimated, your installation experts will secure it so that it stays in place and intact for years to come.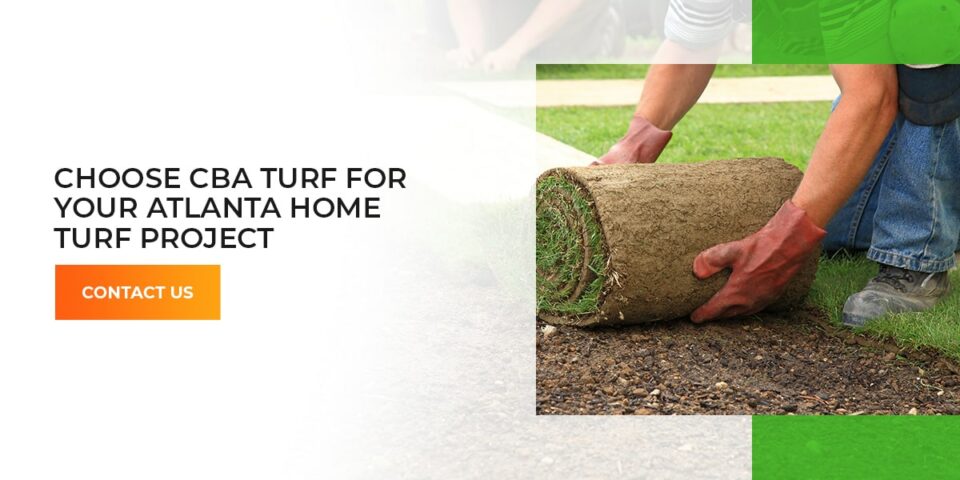 Choose CBA Turf for Your Atlanta Home Turf Project
When you want an established, reputable team on your side to install turf around your pool, call CBA Turf. We provide professionalism and friendly service while ensuring the best artificial grass for your pool area. We'll even provide necessary repairs, helping you feel secure with your investment.
Our materials are unmatched in durability and our highly-trained professionals will install the ideal features to make your pool area an oasis for sunny days.
To discuss your pool turf project today, call us at 770-797-9990 or contact CBA online.