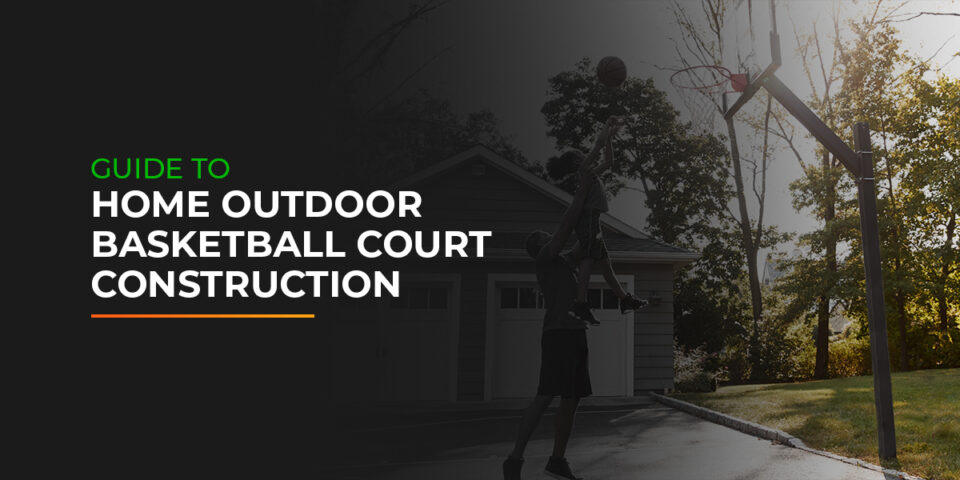 There is nothing like being able to play your favorite sport in the comfort of your backyard. Basketball combines strategy, physical ability and determination into one fast-paced activity. Sure, you could drive you kids to a local park or gym, but there's always the chance that all the courts will be taken. Having a high-quality basketball court in your own yard gives you peace of mind of where your kids are; in the convenience and safety of your own backyard!
Once you've settled on the idea to construct a basketball court, you'll need to think about some considerations. Review the information below to see all that goes into building a court and how doing this can benefit your lifestyle.
Outdoor Basketball Court Considerations
Creating the perfect basketball court will require you to think about your applications. Are you investing in a home court to improve your skills or to enjoy time with your kids? Someone training for high school, college or traveling teams should follow league regulation dimensions, while families wanting to enjoy some time together may be more lenient with the court size and layout.
Recognizing your uses will help you finalize the design and construction specifications of your outdoor basketball court. Here are a few additional questions to ask yourself:
What type of surface do I want for my basketball court?
What league dimensions will I follow?
Where do I want to place the court in the yard?
What do I hope to gain from having my own basketball court?
You can expect a backyard basketball court to cost anywhere from $11,000 to over $70,000 depending on site preparation, size and features you include.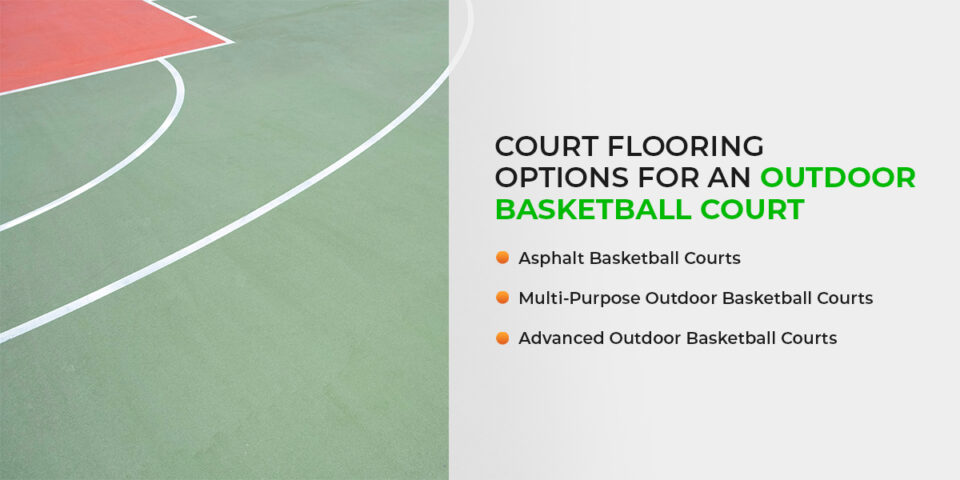 Court Flooring Options for an Outdoor Basketball Court
We have all seen outdoor basketball courts made of concrete or asphalt. These materials are some of the most common for home-court construction, but they are far from the only options. The type of surface you select will affect the safety, performance and even aesthetics, maintenance and lifespan of your court.
Review the general options of surface material for outdoor basketball courts:
Asphalt Basketball Courts
Multi-Purpose Outdoor Basketball Courts
Advanced Outdoor Basketball Courts
CBA Sports can help you decide the best surface material for your outdoor basketball court application.
Asphalt Basketball Courts
You can find asphalt basketball courts within public parks and community centers. Builders choose asphalt because it is the usually the least expensive option. These courts are made by mixing stone and tar.
Asphalt is susceptible to cracking. It can be cosmetically repaired or resurfaced, but once a crack develops, it is structural and will return year after year. One other thing to keep in mind about asphalt basketball courts, is they are unforgiving. Jumping or pivoting on hard asphalt surfaces may result in injuries.
Multi-Purpose Outdoor Basketball Courts
Players who will use their basketball court for more than one activity might consider a multi-purpose court surface. These installations are excellent at minimizing the chances of injuries since they are made with shock-absorbing polypropylene materials. Courts are typically built on top of flat concrete slabs. Surface materials can be created in various colors along with graphics and game lines.
Multi-purpose outdoor basketball courts offer exceptional traction for players. The surfaces are forgiving on the body unlike asphalt or concrete courts. A multi-purpose court allows you to play multiple games, including pickleball, volleyball and soccer, making your purchase more versatile. Also, this court type survives in hot and cold environments without jeopardizing performance.
Advanced Outdoor Basketball Courts
Advanced court systems are similar to multi-purpose installations. The main difference is that an advanced court surface is engineered with enhanced features to provide a true ball bounce, traction and shock absorption. An advanced outdoor basketball court system will be similar to playing on an indoor performance sports floor.
How Thick Does Concrete Need to Be for a Basketball Court?
All the court materials mentioned will require a concrete base level. You should expect to build an outdoor basketball court on a slab that's no less than 4 inches thick. Rebar reinforcements are recommended to prevent the concrete from cracking, thus providing years of maintenance-free enjoyment.
Home Basketball Court Dimensions
Basketball court dimensions change according to age group and league level. It's common for different high schools, gyms and recreation centers to have unique court dimensions based on who is using the court. If you're in the process of figuring out how to turn your backyard into an outdoor basketball court, the dimensions below will be helpful:
Official NBA court: Professional basketball courts measure 94 feet long by 50 feet wide.
High school regulation courts: High school games are played on courts 84 feet long by 50 feet wide.
Junior high school regulation courts: Middle school-age courts are smaller, measuring 74 feet long by 42 feet wide.
Backyard residential basketball courts can be built in as little as a 26 foot by 26 foot space, and go all the way up to a full size 60 foot by 110 foot NBA full court.
How Far Is the Three-Point Line?
The distance of the three-point line in basketball changes in relation to the court dimensions. An official NBA court has the three-point line 23 feet and 9 inches away from the center of the rim. NCAA athletes shoot 22 feet 1 3/4 inches, while High school students shoot three points from 19 feet and 9 inches away.
Where to Position Foul Lines and Key Lines
All basketball foul lines sit 15 feet from the front of the backboard. Make sure you measure from the backboard surface and not from the basket. Professional NBA courts feature a 16-foot key (width). High school regulation courts should have a 12-foot wide lane.
Backboard Size for Outdoor Basketball Court
There is room for flexibility in your backboard installation. Official NBA backboards measure 72 inches wide and 42 inches tall. However, manufacturers make smaller backboard sizes for home applications. You might choose a more compact backboard to save space if you'll use your court for multiple sports or if you have limited space.
Where to Construct Your Court
Your yard layout will come into play when building an outdoor basketball court. The court's location is entirely up to you, but it helps to choose an area that's relatively flat from the get-go. How will the court impact existing drainage? How close can you construct in relation to tree lines? Do you have any underground utilities or other obstacles to consider? These are questions that a professional court builder can assist you in answering.
Possibilities and Benefits of a Home Court
Having a home basketball court is a great idea, as you'll see in the benefits below:
You will always know where your kids are.
Invite friends and family over to play tournaments.
Play basketball anytime you want when you install an outdoor lighting system.
Should I Construct the Court Myself or Hire a Professional?
You'll be using your outdoor basketball court for family time, recreational games and in some cases practice, so it's important that your investment meets your design expectations. Having a professional team create your outdoor court ensures your installation is done correctly and its' surface and components are responsive to competitive gameplay.
Choose each component of your outdoor basketball court when you work with CBA Sports. We serve residents in Atlanta to help make backyard dreams a reality.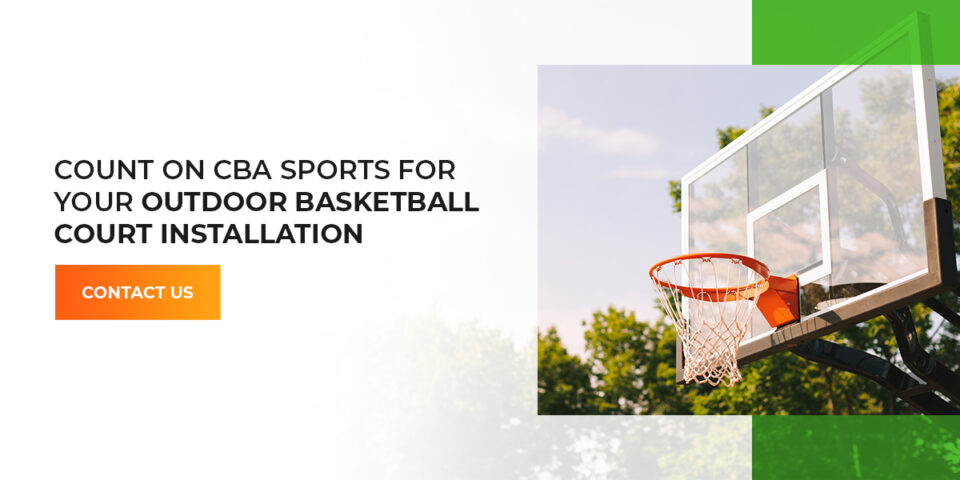 Count on CBA Sports for Your Outdoor Basketball Court Installation
CBA Sports has over 30 year of experience building custom outdoor basketball courts. Choose the best surface materials for your project, and rely on our experts to make recommendations for courts of any size. Contact us today for a free consultation or to learn more about our capabilities.