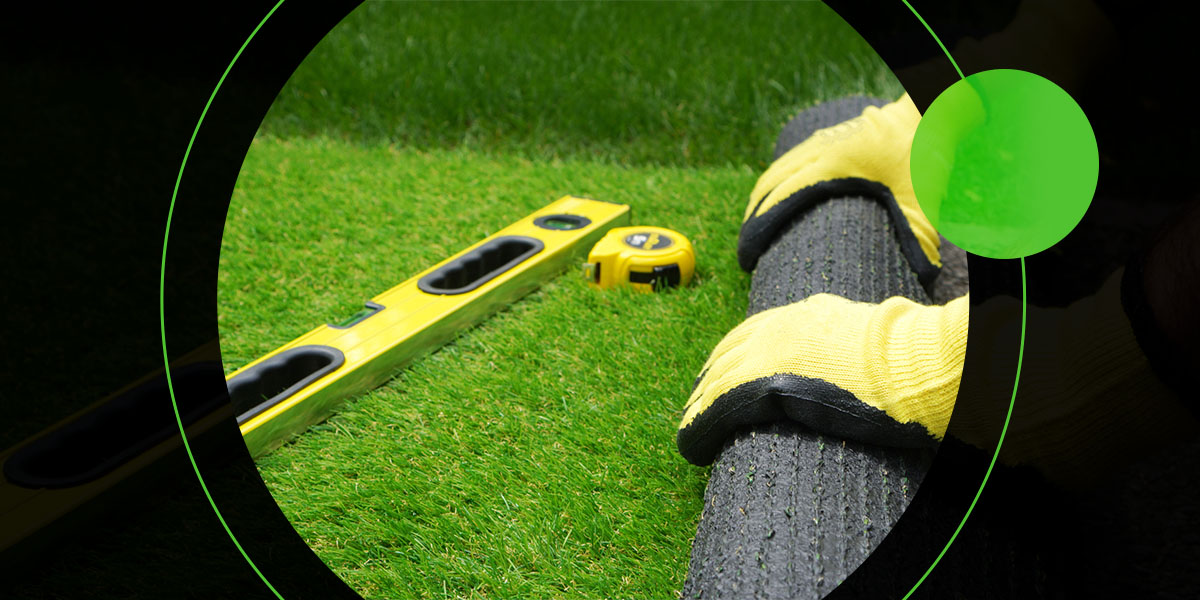 Are you tired of the endless cycle of lawn care and maintenance that natural grass requires? Do you dream of a full, consistent yard that stays vibrant year-round? If so, it's time to consider artificial grass. We'll help you get started with the following guide to artificial turf and residential landscaping.
What Is Artificial Grass?
Artificial grass — or synthetic turf — is a natural grass alternative made from durable materials such as polyethylene, polypropylene or nylon. These strong fibers mean that artificial grass can endure the elements. Most are UV stable and resistant to heat and frost.
Artificial grass is nearly identical to real grass in appearance and feel, yet it doesn't require the same level of care and maintenance. It's perfect for those who want to cut lawn care costs or avoid watering and fertilizing real grass. It's also an excellent choice for homeowners in areas experiencing drought.
Homeowners can choose from a variety of artificial grass colors and textures for a look that suits their home. Artificial grass can transform a yard, whether you want a space for kids to play or pets to roam.
Where to Use Artificial Grass in Your Landscape
When you choose to landscape your yard with artificial grass, the possibilities of where to place it are nearly endless. Get inspired with our ideas for artificial turf lawns below!
Around the Pool
Adding artificial grass to your pool deck can make pool maintenance a breeze. You won't have to worry about dirt getting into the pool or wet feet tracking blades of grass into your house. You can also use pool chemicals without the fear of them killing your lawn.
Over the Patio
Tired of concrete getting so hot in the summer sun? Want to add more grassy space to your yard? Covering your patio with artificial grass can turn it into an inviting space. You can add an awning for further cooling without worrying about too much shade blocking the amount of sun that gets to your grass.
As a Dog Run
With its soft, grass-like texture, artificial grass makes the perfect run for dogs to play and lounge. It's easy to clean if they use it as a restroom, and it won't turn brown and ugly from urine and feces. And because it won't get muddy after a rainstorm, you won't have to clean up dirty paw prints when your dogs come back inside!
As a Play Area
Entice your children to play outdoors by blanketing the ground with soft, lush artificial grass. They'll enjoy an even, level surface with minimal tripping hazards — perfect for a game of tag, kickball, tea parties or any other outdoor activity your kids enjoy.
For Backyard Sports and Games
If you're a golf enthusiast, artificial grass can create a beautiful backyard putting green where you can practice your game whenever you like. You can also use artificial grass for a bocce court or soccer field.
Benefits of Using Artificial Grass for Your Lawn
Discover why artificial grass is a popular landscaping choice:
It's allergy-friendly: Natural grass can be a source of unpleasant symptoms if you have allergies. With artificial grass, you won't have to deal with pollen, pesticides or fertilizers. It also drains moisture quickly, providing little opportunity for mold and mildew growth.
It boosts curb appeal and home value: Artificial grass can increase your home's value by creating an impeccable landscape that leaves potential buyers with a positive first impression. They'll be willing to pay more for a lawn that looks and feels like real grass but is evergreen and maintenance-free.
It saves you time and money: Lawn maintenance can demand a significant share of your time and money. However, artificial grass negates the need for mowing, watering, weeding, seeding and chemical treating.
It's safe: Artificial grass doesn't require chemicals to keep it looking great, which can be harmful to the environment, humans and pets.
It saves water: Large areas of the U.S. are in seemingly endless droughts, and many residents are facing water restrictions. Artificial grass is a smart way to save water in these locations.
It's always beautiful: With artificial grass, you'll never have a brown, dead yard. You'll enjoy a vibrant green view each time you look outside, no matter the season. 
How to Decide Which Artificial Turf to Use
There are many types of artificial grass available for landscaping your lawn. Choosing the most realistic artificial grass can be an overwhelming process, so we've put together the following tips to help you through it.
Do Some Research
Start by considering the space you plan to put the artificial grass in. Ask yourself the following questions:
Will the space see a lot of foot traffic?
Is it low-lying and vulnerable to standing water?
Is it shaded or in the sun?
Will pets use it?
These questions will help you determine what features you need in artificial grass.
Get Familiar With Artificial Grass Features
The world of artificial grass has its own vocabulary to describe the turf's features. Understanding what these words refer to can be helpful when choosing synthetic grass for your yard. Following are common terms you may come across when in the market for artificial grass:
Yarn: Yarn refers to the materials used to make grass. Yarn is available in various thicknesses, colors and shapes to resemble different species of grass.
Density: Density refers to the number of blades per square inch. Greater density means more durability and a more lifelike appearance. 
Pile height: Pile height refers to the length of each blade of grass. Short pile height grasses are best for heavily trafficked areas, while high pile heights work well for luxurious front lawns.
Face weight: Face weight refers to the ounces of material per square yard of turf. Heavier face weights translate to better quality and more durability.
Thatch: Thatch refers to additional fibers added to the turf to represent the nuances of natural grass. Artificial grasses with thatch offer the most lifelike appearance.
Infill: Infill refers to the products placed between synthetic grass blades. These are often silica sand or crumb rubber. Infill provides stability and cushioning and keeps the grass blades standing upright.
Backing: Backing refers to the material the grass blades are stitched to.
Know Which Characteristics to Look For
The best artificial turf for residential landscaping depends on the conditions of your installation area and how you plan to use the grass. However, any turf you choose should have the following attributes:
It can withstand heavy foot traffic.
It appears full and lush.
It's long-lasting and durable.
It's springy and resilient.
It drains well.
It's realistically colored.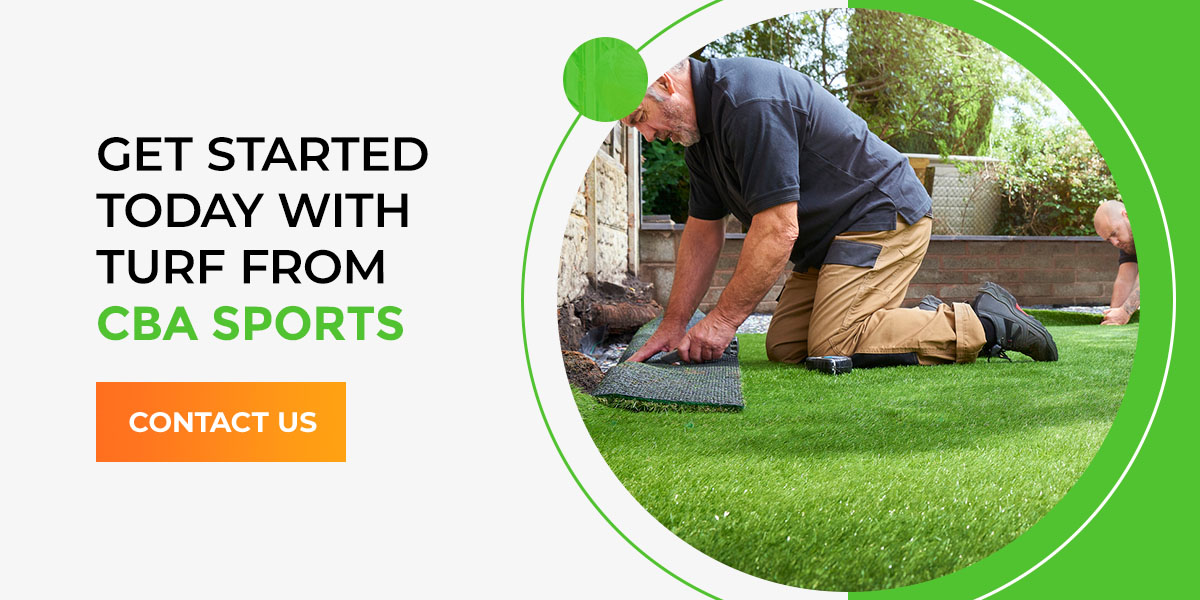 Get Started Today With Turf From CBA Sports
CBA Sports is a leader in the artificial turf world. If you need a natural grass alternative that's versatile, beautiful and easy to maintain, you've found the specialists. We'll install your new turf grass and provide maintenance, so your yard is an oasis of relaxation and pleasure. Contact CBA Sports today or call 770-797-9990 to get a quote!