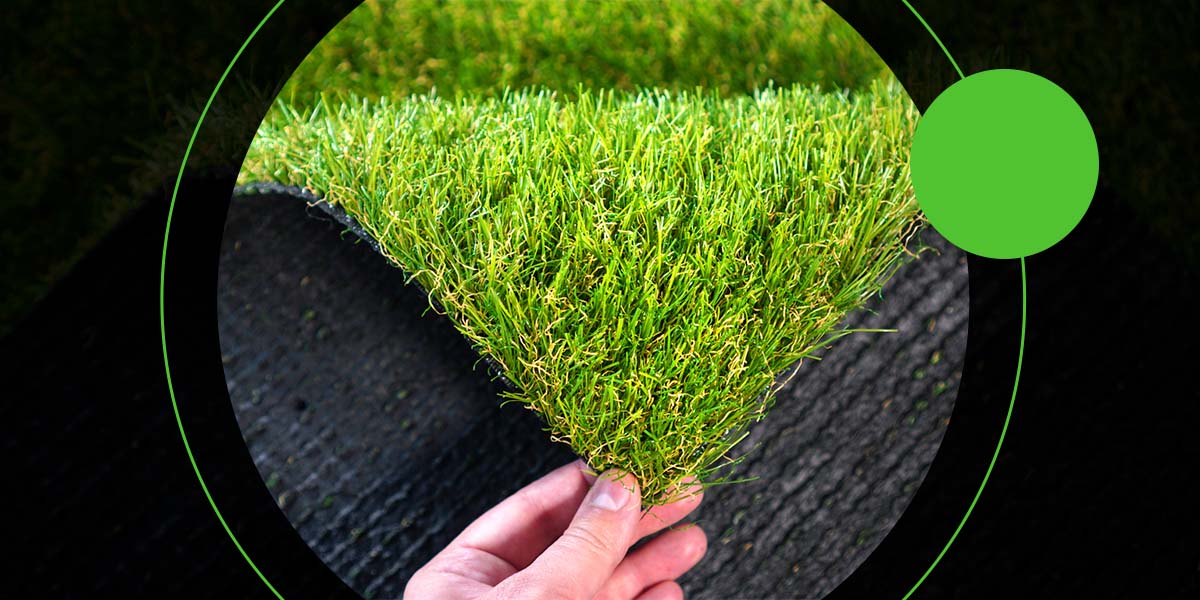 Synthetic Turf vs. Natural Grass for Your Lawn
The Southeastern climate prompts families to spend a lot of time outdoors, especially in the warmer months. Whether you enjoy picnics under a tree in your garden or like having an outdoor space for your pets to play, your lawn serves as a soft surface that offers comfort and protection for any outdoor activity.
If you're thinking of replacing your current lawn or want to install one on your property, you have many options when it comes to lawn material, including natural grass and artificial turf. Learn more below.
Artificial Grass vs. Natural Grass: Differences
Let's break down a few quick differences of artificial turf vs. natural grass for residences:
Artificial grass: Artificial grass goes by a few different names, such as synthetic turf, artificial turf and faux grass. These terms all refer to the same thing — plastic-based materials that look and feel just like natural grass. What's more, artificial grass provides additional benefits that real grass lacks.
Natural grass: Natural grass is supple, lush and softer than almost any artificial substitute. A well-kept lawn is visually appealing and luxurious. Natural grass can be your preferred option if you like to perform landscaping throughout your property, as it can naturally complement flower beds, gardens and shrubbery.
In general, both options offer distinct advantages, and one may be the better option for you based on your unique property, needs and preferences.
Types of Synthetic Turf
There are three main types of synthetic turf. Each has distinct features and components that set it apart from the rest.
Nylon: Turf made of nylon is superior in strength and resilience, which is the main reason it costs more than the others. It can withstand extreme temperatures and easily snaps back into shape after being bent or stood on, something that may be useful if you have pets. However, it has a rough texture, which may be a deterrent if you're looking for a lawn for your kids to play on.
Polyethylene: The material used to produce this faux grass is slightly less firm than nylon but looks and feels more like real grass than nylon. It requires more maintenance to maintain its structural integrity, but it costs less and is a better option for the whole family to enjoy.
Polypropylene: This type of artificial turf is the least expensive. However, it won't retain its shape well after enduring heavy foot traffic or constant pressure. It's the least weather resistant and may melt if exposed to intense heat over time, making it more suitable for use in cooler environments.
Consulting with a professional turf installer can help you decide which option best suits your needs and budget.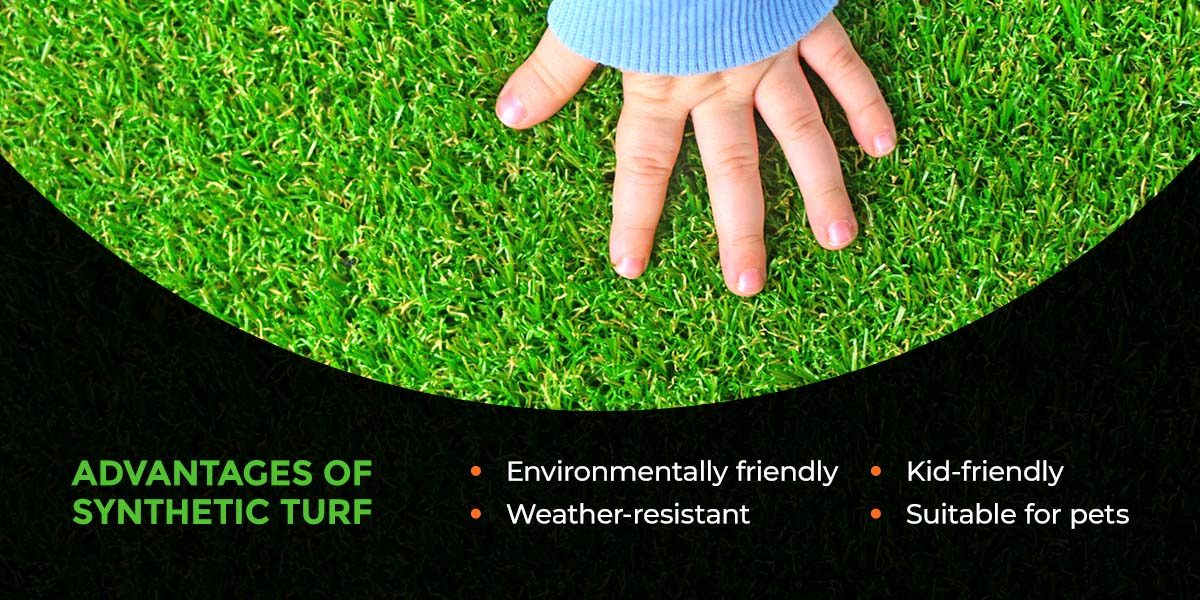 Advantages of Synthetic Turf
If you're considering installing synthetic turf, you should know the advantages of doing so. Here are a few:
Environmentally friendly: A great benefit for those who are conscious of the environment is that turf is made of recyclable material, so it can be disposed of safely when it's time to replace it. Additionally, no pesticides or fertilizers are required to maintain it, which is beneficial for the ecosystem around your home.
Weather-resistant: You'll never have to worry about your grass fading, as synthetic turf is resistant to ultraviolet rays. It won't discolor, regardless of the sun's intensity, and the cold also has no effect on it, so you can enjoy a beautiful green lawn throughout the year. The drainage system underneath prevents flooding during rainstorms.
Kid-friendly: Kids can enjoy playing on artificial turf without staining their clothes. These lawns are typically soft enough that they won't scratch your skin, so your children will have a safe, comfortable place to play outside.
Suitable for pets: If you opt for nylon turf, your pets will have the perfect outdoor space to roam and play. You can also have peace of mind knowing that any odors they leave won't be absorbed. Getting the right brand that has anti-bacterial properties may eliminate allergies and reactions for both children and pets.
Artificial Turf vs. Natural Grass Cost
It takes a long time for natural grass to grow, and you must work to maintain it throughout the year. External factors like the weather could hinder your grass from reaching its full potential, despite your hard work. In comparison, artificial grass requires an upfront investment but needs minimal maintenance and attention over the seasons.
Here are some ways artificial turf can help you save money:
Low water bills: Water isn't required to maintain your lawn as much as it is for natural lawns, so your water bill regarding its care will be lower.
No mowing, trimming or seeding: You'll never have to cut or trim your artificial lawn, and seeding isn't necessary with synthetic grass.
Long life expectancy: If artificial grass is maintained correctly, it can last up to 15 years, making it a great overall investment.
Artificial Turf vs. Natural Grass Maintenance
As a property owner, you want to spend less time doing maintenance like mowing or watering your lawn. The main benefit of artificial turf is that it requires minimal maintenance. You only need to check it to ensure there are no wet low patches and that the components of the grass are still intact after heavy, regular use. In comparison, maintaining a natural lawn takes time and effort and may have an adverse effect on the environment if chemical fertilizers are used.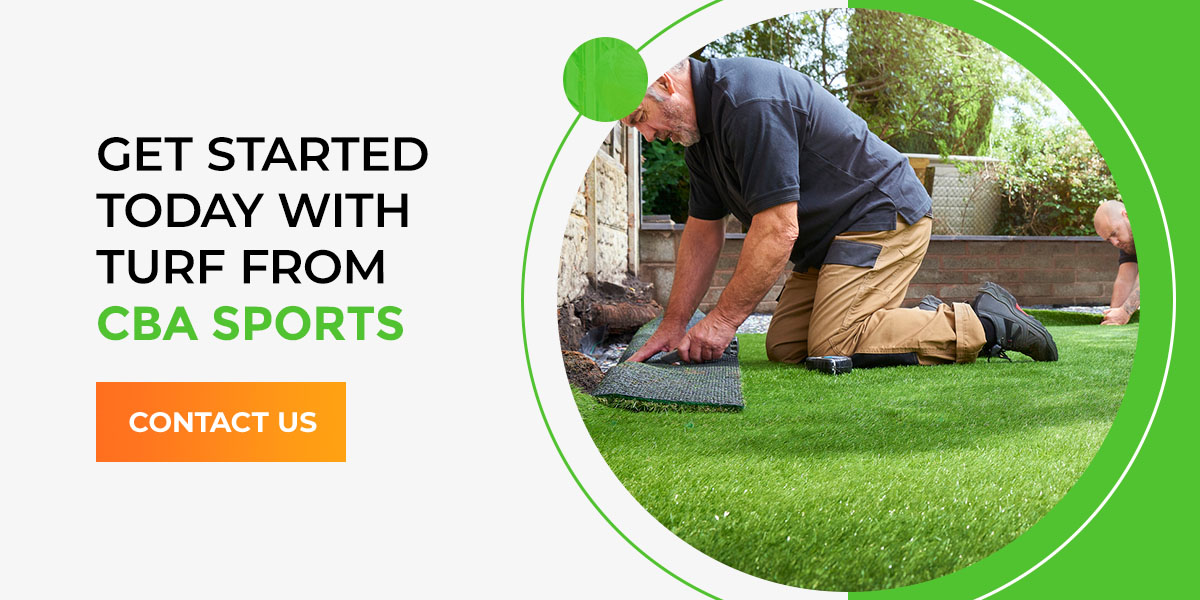 Achieve a Beautiful Turf Lawn With CBA Sports
Are you interested in installing a turf lawn for your property? CBA Sports is a leading installer and maintenance provider of artificial lawns and surfaces in Georgia and Alabama. With turf, you can enjoy a space that's simple to maintain and serves as a beautiful gathering space for your friends, family and pets.
At CBA Sports, we pride ourselves in offering the best in turfing solutions and systems, suited to your needs. To get started, call us at (770) 797-9990 or complete a contact form for a free consultation.